MAY 20, 2017
RIDE FOR OUR TROOPS
LAS VEGAS, NV

9th Annual Charity Motorcycle Poker Run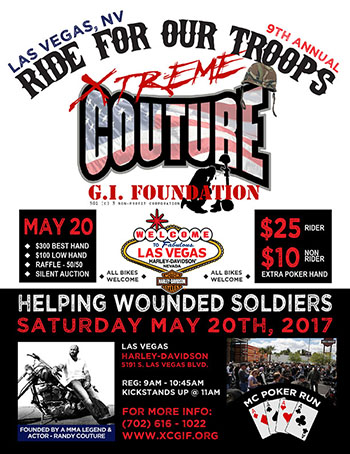 Join Randy Couture as he hosts the 9th Annual Ride For Our Troops - VEGAS.
Registration will begin at 9am at Las Vegas Harley-Davidson 5191 South Las Vegas Blvd, Las Vegas, NV 89118.
Highest and Lowest Hands win prizes, 50/50 raffle, door prizes and silent auction.
For more information, media or press inquires please contact Valerie Haney (702) 616-1022 or email val@xtremecouturemma.com.


SEPTEMBER 30, 2017
ROUND 8: OPERATION KNOCKOUT




Operation Knockout is getting ready for its seventh straight year, helping raise much-needed funds and awareness for wounded veterans.
Round 8 presents an exciting mix of Amateur MMA Fights and Submission Grappling Tournament for a great evening of entertainment while raising
funds for such a great charity.
For more information, media or press inquires please contact Valerie Haney (702) 616-1022 or email val@xtremecouturemma.com